Meet Dr Allan Van (Chiropractor)
Switching Gears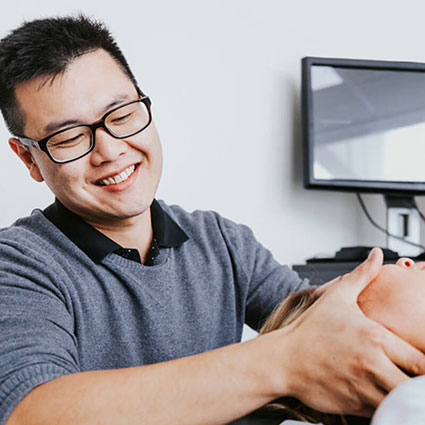 While in his third year of studies in electrical engineering and biomedical engineering at the University of New South Wales, Dr Van (Chiropractor) suffered a terrible gym injury. He received chiropractic care that helped him recover, and his chiropractor taught him about the power the body possesses to protect and heal itself. At that point, Dr Van was inspired to switch gears and pursue chiropractic as a career. He wanted to help other patients in the way he was helped.
He earned his Master of Chiropractic degree from Macquarie University in 2012. Dr Van then practiced for many years as an associate in practices all over Sydney, where he worked alongside physiotherapists, osteopaths and even Traditional Chinese medicine practitioners.
Dr Van joined Westleigh Chiropractic, where our founder, Dr Cowie (Chiropractor), mentored him. Upon his retirement, Dr Cowie trusted Dr Van to take over the practice and carry on his legacy of providing the best care possible to patients from all walks of life.
Passion and Compassion
Dr Van has a passion for helping people improve—not just in the short-term, but also in the long-term. He strives to give people the same realisation he had when he first experienced chiropractic care, so they can understand the amazing power their body possesses to heal itself. This compassionate approach to care is one of the things that sets our practice apart.
Becoming part of the community is important to Dr Van, and he loves meeting people and establishing relationships with patients, neighbours and everyone else he encounters.
EXPLORE OUR SERVICES
Outside the Practice
When he isn't at work, Dr Van enjoys anything that can be done out in nature—swimming, hiking, rock climbing and bike riding. He regularly visits the gym and enjoys new food adventures.

Dr Allan Van | (02) 9484 7090